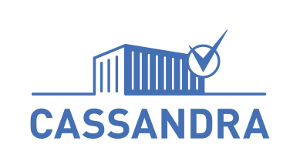 Außerbetriebliche Logistik, Datenanalyse, Kooperation
Common Assessment and analysis of risk in global supply chains.
Laufzeit: Januar 2012 bis März 2014
Beschreibung:
Since technical solutions already exist, the challenge lies in integrating solutions across the supply chain. CASSANDRA will: •Facilitate the adoption of a risk based approach in the supply chain, on the basis of integral monitoring data on cargo flows and container integrity, •Build interfaces between existing visibility solutions, and visualisation tools, in an open rchitecture, •Demonstrate the integration of data and risk assessment in supply chains in three major trading routes to and from Europe •Evaluate the quality of the integral data with business and government. •Facilitate a dialogue between business and government to gain consensus on the criteria for data sharing between business and government.
Laufzeit:
Januar 2012 bis März 2014